Note: This section of our site is a digital version of the exhibit about the structures that we produced for the City Reliquary, a small Brooklyn Museum, in 2009. The exhibit included all the information we had about the structures at that time, but also featured several unresolved questions, so the story it tells is incomplete. In the four years since the exibit appeared, we've answered most of these questions (the full story of the structures can be found in this article we wrote for the New York Times), but we're keeping the digital exhibit in its original state, as a document of where our research stood at that time.
—PL and KH, May 2013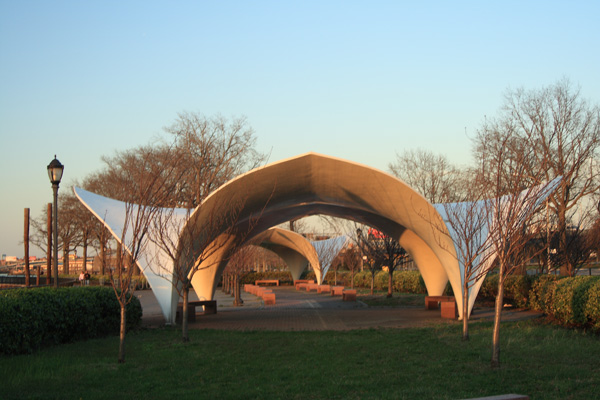 You can click on this and all the other pictures
from the exhibit to see larger versions
HAVE YOU SEEN THESE TWO PREFAB STRUCTURES?
They're located on the Flushing Bay Promenade in Queens, just off of Northern Boulevard, a few hundred yards from the Mets' new stadium and LaGuardia Airport.
They're known as the Candela Structures. Aren't they cool? Millions of people have seen them, but almost nobody knows anything about them. We fell in love with them last year and decided to investigate their history.
That turned out to be trickier than we expected, but here are the basics: The two Candela Structures — plus a third one that's now gone — were built as exhibit spaces for the 1964 World's Fair. They had glass walls back then, which were later removed, leaving the fiberglass shells we see today.
But many questions remain. After eight months of research, we're still not certain who designed the Candelas, or when their glass walls were removed, or what happened to the third one. Even their name, "Candela Structures," is based on their presumed connection to the architect Félix Candela — a connection that appears to be a mix of conjecture and misinformation.
The biggest mystery, though, is why these two amazing structures have languished in obscurity for so long. We hope this exhibit will give them the attention they deserve, and that it will prompt someone — maybe you — to help us fill in the missing chapters of their story.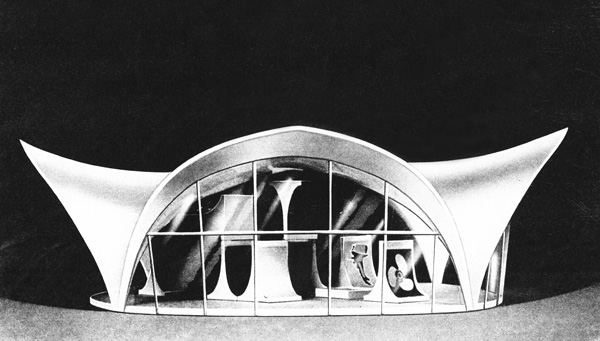 This promotional illustration was distributed to the media prior to the 1964 World's Fair. The caption read: "Ultra-modern Fiberglas domes will house Evinrude Motors' Mail Port and Message Center and Johnson Motors' Waterways USA Boat Travel Information Center at the World's Fair Marina." (Collection of New York Public Library)
One of the three fiberglass pavilions as it appeared during the World's Fair. This is one of only two known color photos of the structures from this period. (Collection of Mike Kraus)
The two remaining Candela Structures as they appear today, without their original glass walls. (Photos above and at top by Kirsten Hively)
Next: Origins: The '64 Fair